Orvis Bamboo Fly Rods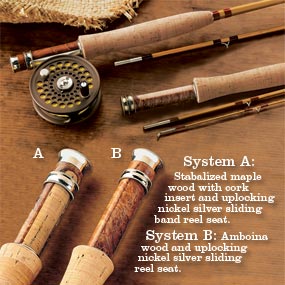 Orvis Bamboo fly rods are designed for the traditional angler, who wants the sensitivity, feel and tradition of using bamboo. All of the Orvis bamboo fly rods are handmade in Vermont...so don't look for a "Made in Asia" sticker on them.
If you're a new angler, you do not want a bamboo fly rod. They are heavier (although not as heavy as older bamboo rods were) and not especially easy to cast. Even most intermediate and advanced anglers will prefer the lighter weight of graphite fly rods.
However, for the traditional angler in search of a quality bamboo fly rod, you'll be hard pressed to find a better bamboo rod, that is still affordable, then the bamboo rods by Orvis.
Unsure of what type of fly rod to get? Then read our Buyers Guide to Fly Rods for helpful information on things to look for when shopping around for one.
All of the fly rods below are available for purchase direct through Orvis.
Browse the complete selection of Orvis Bamboo Fly Rods on the Orvis Website.
Orvis Bamboo Fly Rods
As these rods are made from bamboo, the rods below are all full-flex rods, and are best used for classic small-stream trout fishing with smaller flies.
Please note, prices are subject to change. Use prices as a guide only.
---
Copyright 2002-2013


Big Sky Fishing.Com
---