Showdown Ski Area : Review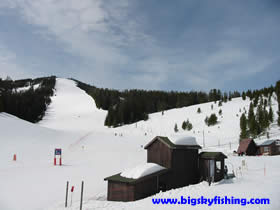 Showdown Ski Area, seen from the base lodge
Showdown ski area is one of the lesser known ski areas in Montana – at least to people from out of state. Showdown ski area, like most of the other ski areas in Montana, draws primarily local skiers to its slopes – particularly from the Great Falls area. For those unfamiliar with the location of the ski area, Showdown is located on the top of Kings Hill Pass, just off of US Highway 89 – just a bit south of the small town of Neihart and North of White Sulphur Springs. Great Falls, the nearest large city, is about 65 miles and an hour and a half drive away.
Showdown ski area is not a huge ski area – but I wouldn't call it small anymore either. A recent expansion and the addition of a new lift opened up quite a bit more terrain on the mountain. Currently, Showdown has 2 chair lifts, two surface lifts and covers about 600 acres. Showdown doesn't have a killer vertical, only 1400 vertical feet, but it does receive a decent amount of snow – on average 240 inches of snow each year.
Showdown Vital Statistics
| | |
| --- | --- |
| Snowfall : | 240 inches |
| Acres : | 600 |
| Vertical Feet : | 1400 ft |
| # of Lifts : | 1 Triple Chair, 1 Double Chair, 2 Surface Lifts |
| Terrain : | 30% Beginner, 40% Intermediate, 30% Expert |
What Showdown ski area may lack in terms of sheer size and vertical, though, it makes up for in its wide variety of terrain. Whether you are an expert or beginner skier or snowboarder, Showdown has a great trail network to explore – and at affordable prices, too. And, owing to the out of the way location of the ski area, crowds (and thus lift lines) are also generally light to non-existent except for the occasional busy Saturday during the height of the ski season when groups from Great Falls can find their way up to the mountain.
Showdown, like most other ski areas in Montana, is a ski area – not a ski resort. What this means is that other than a very nice base lodge and related buildings, there is no lodging available on the mountain. Indeed, the nearest lodging is located more than ten miles away, down in Neihart.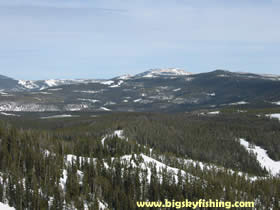 View from near the summit at Showdown
Additionally, before diving into what is important – which is the skiing of course – a word should be mentioned about the road that leads up to Showdown ski area. The base area of Showdown is located at 6800 feet, which is about 3000+ feet higher than the surrounding valleys. As such, the highway gains a lot of vertical – frequently twisting around the mountain in the process. Combine that with the areas snowfall and some occasional high winds and you have a recipe for an interesting drive up to the ski area. While the Montana highway department does a decent job of keeping the road clear – during snowy weather just be prepared for a longer than normal drive at slower speeds.

Next Page : Skiing at Showdown Ski Area
---