Great Divide Ski Area : Review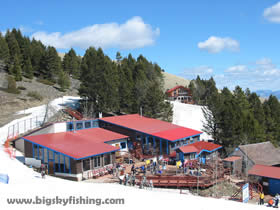 The Base Lodge at Great Divide Ski Area
Great Divide Ski Area is a place that is just full of surprises. Located off the continental divide about 25 miles from Helena, Montana. Great Divide has excellent skiing and snowboarding over an exceptional variety of terrain that covers more than 1600 acres. This very large size makes Great Divide one of the largest ski areas in Montana! Moreover, Great Divide is one of the most affordable ski areas in Montana, with lift tickets costing less than $30. So, what do you get by combining a fine trail network, affordable prices and a huge size? A superb day of skiing, that's what!
Great Divide Vital Statistics
| | |
| --- | --- |
| Snowfall : | 150 inches |
| Acres : | 1600+ |
| Vertical Feet : | 1500 ft. |
| # of Lifts : | 5 doubles, 1 surface. |
| Terrain : | 15% Beginner, 40 Intermediate, 45% Advanced |
The skiing at Great Divide is excellent. The huge size of the ski area provides for a ton of terrain diversity. Great Divide has a beautiful mix of open bowl skiing, steep bump runs, glade skiing, groomed cruisers and more. This ski run diversity pretty much guarantees that you will not get bored during a day of skiing at Great Divide – or several days of skiing for that matter. Indeed, about the only terrain not found at Great Divide are chutes and the extreme steeps.
See Great Divide Ski Area Map (full view) (large image)
Great Divide itself is built on a mountain called Mt. Belmont, which has a peak elevation of 7330 ft. As the mountain is the tallest around and because the terrain is quite open, you get a great view from the summit. In particularly, you get a great view of the valley and the mountains east and other nearby mountains, including the Elkhorn Range.
If Great Divide is lacking in anything it is, unfortunately, snow. You see, Great Divide doesn't get pounded with snow like other ski areas in Montana do. As a ski patrol person told me, it is not uncommon at all for huge snowstorms to be raging right around the mountain, with the ski area itself basking in mid-winter sunshine. And this weather phenomenon shows up in the average snowfall for Great Divide, which is only 150 inches.
Now, 150 inches isn't a lot of snow in comparison to other Montana ski areas. However, it is more than enough to provide a solid base to ski on during a normal winter. Additionally, the snow Great Divide receives tends to be pretty light and fluffy owing to its location on the east side of the continental divide and its elevation. And, because the crowds are generally quite light, this powder can lay undiscovered in the glades for many days after a snowstorm.
Of course, this lack of snow has a positive flipside – Great Divide gets lots of sunshine over the course of the winter – much more so than what is found in most other ski areas in Montana (especially those further west, like Montana Snowbowl). If you want to ski "in the sun" in Montana, Great Divide is a great place to do it.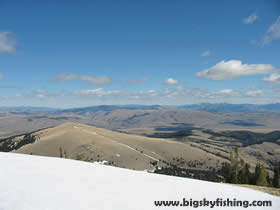 View from the summit at Great Divide Ski Area, seen during late spring in a low snow year
Getting to Great Divide is pretty easy. Just follow the signs. Basically, to get Great Divide from Helena follow I-15 north out of town. Get off the Interstate at exit 200, Lincoln Road (Highway 279). Then head west 10.5 miles to Marysville Road. Look for a Great Divide Ski Area sign along side the road and/or the road marker for Marysville Road. These signs are located on the left or southern side of the highway. Turn on Marysville Road and then drive 7 miles to Great Divide, going through downtown Marysville in the process. Note, pay attention after mile marker 10 (set your trip odometer), as the sign and road that leads to the ski area off of Highway 279 is easy to miss if you are "admiring the scenery"(which is very nice) instead of closely looking where you are going. It happened to me so it undoubtedly can happen to you, too!
Parking at Great Divide is free, like virtually every other ski area in Montana, and is abundant except on the busiest of weekends. The lodge at Great Divide Ski Area is also very nice, being roomy, comfortable and in general making for a perfect place to change into your ski clothes (instead of doing it in your car). The lodge also has a very nice, large deck that is used for barbecues during warmer weather.
Well, that's enough about how to get to Great Divide and other general stuff. Let's take a look at what really counts – the skiing.

Next Page : Skiing at Great Divide Ski Area
Page : 1 | 2 | 3 | 4 | 5 | 6 | 7
---
Web Resources


Great Divide Ski Area Home Page


Downhill Ski Gear with Free Shipping at Backcountry.com.

Free Shipping On Snowboard Gear at Backcountry.com