Whitefish Mountain Ski Area : Review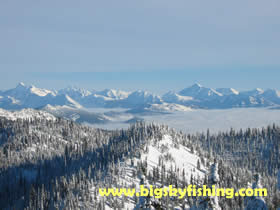 Glacier National Park seen from Whitefish Mountain Ski Area
The Whitefish Mountain Ski Resort (formerly called Big Mountain) is located just north of Whitefish and is the second largest ski area in Montana. Whitefish Mountain, owing to its huge size, has pretty much something for everyone – from quality intermediate ski runs to powder skiing to bump skiing to tree skiing.
Not too many years ago Whitefish Mountain was just another local ski area. That has all changed, though. Lately, Whitefish Mountain has become more of a real estate development company that also happens to own a ski area. Massive housing and condo projects have been or are being built on the mountain – in preparation for selling them to the baby boom generation as they retire. Moreover, the entire village area is being completely re-done. When all finished sometime around 2009, the village area will likely resemble many of the other fancy villages seen at other plush western resorts.
Whitefish Mountain Vital Statistics
| | |
| --- | --- |
| Snowfall : | 330 inches |
| Acres : | 3000+ |
| Vertical Feet : | 2500 ft / 2098 true |
| # of Lifts : | 2 High Speed Quads, 1 Quad, 5 Triple Chairs, 1 Double Chair, 2 T-Bars |
| Terrain : | 20% Beginner, 50% Intermediate, 30% Expert |
When I moved to Montana in 1999, I moved to Whitefish and spent lots and lots of time up on Big Mountain (now called Whitefish Mountain) over the next several winters. Yet, even during this short time period since I've moved here, I've seen dramatic changes on Big Mountain. Some of these changes are good – others bad. So, before you book your next ski vacation to Big Mountain, lets take a look at some of these changes in this review of the Big Mountain I've prepared on put on the site.
Note - I wrote this article when the ski resort was called Big Mountain, not Whitefish Mountain (name changed in 2007). Since I don't feel like changing 40 web pages, for the rest of the article and in the photograph section I'll continue to call this ski resort Big Mountain...not Whitefish Mountain, if only because I'll always think of the place as "Big Mountain" (aptly named), not Whitefish Mountain (boring name).
Changes on Big Mountain : The Good and Bad
The concentration on building all this housing, condominium complexes and redoing the whole village area is both good and bad. From a local skier's perspective, few locals really like it. On weekends, Big Mountain now resembles a typical eastern ski area – with lift lines on the main chair frequently exceeding 20 minutes or more.
The cost to ski at Big Mountain has also ballooned up – with lift ticket prices now bumping the $50 mark for a full day adult lift ticket. And as far as parking goes, well, have fun. Much of the once voluminous parking that was available on the mountain is now gone in favor of building projects of one kind of another. As such, parking on the Big Mountain, especially on the weekends or during the holidays, is a REAL pain. So painful, in fact, that I really don't bother to ski up there on the weekends anymore.
OK. That is some of the bad that goes with the direction the Big Mountain Ski Area has been going in their course of development. There is, of course, some good. As part of this whole expansion, Big Mountain has installed three high speed quads which have dramatically cut the trip time from the bottom of the mountain to the top. Some additional terrain has also been opened – with more terrain, theoretically, slated to open in the near future (I've been hearing about this for years but it hasn't happened yet). And, for people with money, Big Mountain now offers many more ways to spend it off the slopes than before the building boom on the mountain occurred.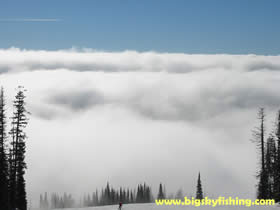 Skiing into the Clouds at Big Mountain Ski Area
So, in a nutshell, these are some of the changes occurring on Big Mountain. Basically, Big Mountain has undertaken the task of becoming the next "Vail" of Montana – following the lead of Big Sky Ski Resort. I personally don't care for this direction – but so far it seems to be working for the mountain financially. While Big Mountain is losing local skiers (including myself) to the much more affordable and "local friendly" Blacktail Ski Area and other nearby ski areas, they do seem to be making this loss up (judging by the length of the lift lines) by attracting out of state skiers – virtually all of whom have way more money to spend than local Flathead Valley residents.
But, enough about these changes going on at Big Mountain. It's depressing to write about. What really matters, ultimately, is the skiing. And, for now at least, Big Mountain can have some absolutely fabulous skiing.

Next Page : Skiing the Big Mountain
---